Increasing Perioperative Workflow Efficiency

LiveData enables hospitals to:
Automate and standardize patient safety processes

Improve OR throughput

Reduce staff overtime, downtime and rescheduling

Optimize the use of operating rooms, shared devices, and other scarce resources
Inefficiencies occur when communications are fragmented, unavailable or ill timed, and processes become disjointed and ineffective. Closing the gap between people, processes, and IT systems, LiveData solutions coordinate surgical patient care and OR throughput in real-time.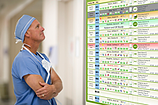 LiveData PeriOp Manager and LiveData OR-Dashboard provide real-time visibility into perioperative workflow and automated patents-pending patient safeguards.
Caregivers can effectively manage and assume accountability for their own activities; and administrators are able to quickly gain insight into where and when workflow bottlenecks are liable to occur.