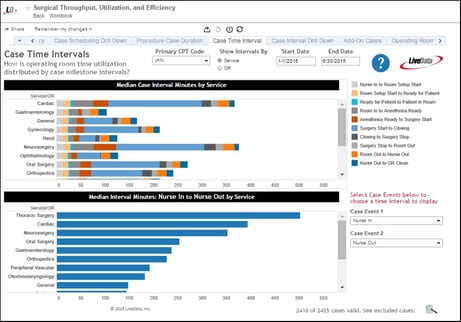 LiveData PeriOp Manager Analytics to Debut At OR Manager Conference, Oct. 7-9
CAMBRIDGE, Mass., September 28, 2015 – LiveData, Inc. today introduced LiveData PeriOp Manager Analytics™, the first software application that helps perioperative teams anticipate opportunities for improved patient workflow/throughput, efficiency, and patient safety even before care is provided. PeriOp Manager Analytics assimilates, aggregates, and organizes real-time perioperative workflow data and provides an integrated visual narrative of descriptive analytics that enable clinicians and administrators to uncover, identify, and target opportunities for improved team coordination and overall performance.
LiveData PeriOp Manager Analytics transforms real-time operational data into actionable quality, compliance, and efficiency intelligence. Starting with a high-level overview, the user can explore data by service, operating room, and case to reveal patterns and associations that enable operating room managers to optimize throughput and block utilization, leading to greater efficiency.
"With our breakthrough solution, OR managers can easily conduct post-surgical reviews to analyze performance; clinicians can gain better insights; and hospital administrators can use the analytics for strategic planning," said Jeff Robbins, LiveData CEO. "The result is better team coordination and more effective resource utilization, all leading to improved patient outcomes and increased access to healthcare."
Data from perioperative workflow systems is automatically captured and integrated directly into the analytics solution, eliminating the need to export, format, and import data from multiple sources. Real-time data is available for analysis within hours rather than days or weeks. OR managers and hospital leaders can make clinical and business decisions that have an immediate impact on patient safety, care quality, and operational efficiency.
Perioperative data can be captured real time from LiveData PeriOp Manager™ modules or integrated directly from existing hospital information and surgical suite systems using LiveData Real-Time Integration™ (RTI). LiveData RTI captures, transforms, and integrates data from systems and devices, including EMR, scheduling, anesthesia, and surgical patient monitoring systems.
PeriOp Manager Analytics complements LiveData's suite of real-time operational intelligence solutions. The product is available both standalone and as part of LiveData PeriOp Manager, the company's operational intelligence solution which integrates real-time data with workflow automation to coordinate and manage patient care throughout the perioperative suite.
LiveData's Suite of Operational Intelligence Solutions Includes:
OR-Schedule Board: a real-time view of the day's surgical cases, enabling scheduled procedures to be adjusted as the day unfolds to reduce unnecessary cancellations, staff overtime, and to improve overall patient throughput.
PreOp Board: a single, dynamic, operational view of patient status and perioperative case workflow confirms that the necessary prerequisites for surgery are completed in time to ensure on-time starts and reduce unnecessary rescheduling or cancellations.
OR-Dashboard: a display of patient information, visible to the entire surgical team, integrating data from hospital medical records and physiological devices with automated surgical workflow and patient safety information, including Active Time Out, a real-time, interactive surgical safety checklist.
Patient Flow: a patient check-in process integrated into perioperative workflow tracking.
Family Waiting Board: a display designed for public areas to enable families to track the progress of their loved ones as they move through the surgical process.
PeriOp Manager Analytics: comprehensive big data analysis, transforming real-time operational data into actionable quality, compliance, and efficiency intelligence.
LiveData is exhibiting and demonstrating LiveData PeriOp Manager at the 2015 OR Manager Conference, October 7-9 in Nashville, TN in Booth #1427. On Friday October 9 from 9:45AM to 11:00AM, Hector Delgado, Nurse Manager of Perioperative Services for Operating Rooms, PACU, and Special Procedures from LiveData customer Miami VA Healthcare System, is speaking on Using Data to Improve Safety, Quality, Efficiency, and Utilization.
About LiveData
LiveData, Inc. is a leading innovator in real-time operational intelligence solutions. The company's healthcare solutions enable caregivers to optimize the patient's journey, enabling care teams to efficiently and consistently coordinate the entire patient surgical experience with predictable outcomes. With LiveData's healthcare solutions, clinical care teams see easy-to-read, graphic displays of the entire surgical process across all patients for a hospital. Leading medical institutions, including Massachusetts General Hospital, Memorial Sloan-Kettering Cancer Center, NewYork-Presbyterian Hospital, and Veterans Health Administration facilities have selected LiveData solutions to improve patient safety, team communication, and perioperative efficiency. LiveData is headquartered in Cambridge, Massachusetts. For more information, visit www.livedata.com.