LiveData RTI Server-Healthcare Edition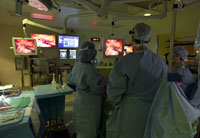 LiveData RTI Server™- Healthcare Edition is the technological foundation for all LiveData's healthcare products. A real-time data integration engine, LiveData RTI unifies disparate systems—medical devices from diverse vendors, hospital information systems, in-house applications and data structures—and delivers real-time data streams to visual applications like LiveData OR-Dashboard™ for synthesis and display.
LiveData has developed an extensive library of medical device and hospital information system interfaces. In addition, the library includes interfaces to supply chain management systems, authentication systems, audio-visual systems—to all systems found in hospitals today.
LiveData provides hospital IT departments with a solution for secure, transparent access to key information systems. LiveData RTI technology alleviates the need for additional interface adaptors and does not disrupt the integrity of such other systems as Epic OpTime, McKesson, Eclipsys, and Picis.
LiveData RTI is designed for maximum flexibility, scalability, and reliability, using an object-oriented approach that leverages broad-based IT and industry-specific standards. LiveData's architecture scales from relatively small systems, encompassing tens or hundreds of data streams, to very large configurations with hundreds of thousands of sources. Data streams can be integrated and operated upon continuously—"on the fly"—along with data from diverse applications and databases.
Supported Protocols
LiveData communicates with medical devices and health information systems using standards-based protocols where available, including technologies like HL7 2.X and 3.X, XML, SQL, SOAP, SOA, Web Services, and the IEEE/ISO 1073/11073 Point of Care Medical Device Communication standard.
Our long experience with a variety of networking protocols like TCP/IP, OSI, and ICCP give us deep expertise in applying standards-based networking and interprocess communications to the medical domain.
The RTI engine also has a rich scripting environment that facilitates easy integration with the APIs of all other applications .
LiveData and Medical Interoperability
LiveData is actively involved in initiatives dedicated to standardization of medical devices, including:
In the IHE Connectathon, LiveData successfully completed testing as the Device Observation Consumer in the IHE Device Enterprise Communication Profile, successfully interoperating with a variety of vendors, including Philips, GE, Draeger, BBraun, and Welch Allyn.
Additonal Third Party Interfaces
LiveData's relationships with other interface providers expands its list to over 300 medical devices and systems, including the hospital information system, medical device, and other systems listed here.
Notice of Intended Use
LiveData, Inc. does not intend for LiveData RTI Server-Healthcare Edition to be used for active patient monitoring, controlling or altering the functions or parameters of any medical device, or any other purpose relating to data obtained directly or indirectly from a medical device other than the transfer, storage, and conversion of such data from one format to another in accordance with preset specifications.