Corporate Leadership

Jeffrey Robbins: Founder, President, CEO
Jeff has led LiveData and served as strategic and technology visionary since founding LiveData in 1991. A passionate software innovator, Jeff led LiveData's early successes in manufacturing data acquisition and delivery at Ford, General Motors, and Boeing. He extended LiveData's appeal to other markets, particularly the electric power industry, by supporting a broad range of industry protocols and offering an open architecture solution for real-time data integration. In 2003 Jeff propelled LiveData into the healthcare market, winning a US Army SBIR (Small Business Innovation Research) Phase I award and joining the Center for the Integration of Medicine and Innovative Technology (CIMIT), where LiveData led data integration for the Operating Room of the Future. Prior to founding LiveData, Jeff was CEO and founder of Cambridge Authoring Systems. He has served as Co-Chairman of CIMIT's Plug and Play Medical Device Communication Standards Working Group, as Senior Technical Advisor to the National Rural Electric Cooperative Association, and on the US Advisory Board to the ISO & International Electrotechnical Commission. Jeff earned an AB in Philosophy with Honors from Harvard College.
Matt Churchill: Vice President Healthcare Sales
Matt brings LiveData a combined clinical and healthcare sales background that focuses on delivering solutions to meet each customer's needs and preferences. Matt began his career as a licensed physical therapist earning his BS in Physical Therapy from the University of Connecticut. He then transitioned into a successful sales career in both the pharmaceutical and medical device industries, winning several performance awards.
Brad Harkavy: General Manager, LiveData Utilities
Brad brings to LiveData more than 20 years of experience in executive-level roles growing public and private industrial and high tech businesses. He comes to the company from Sagewell, Inc., an early stage energy efficiency company where he was chief operating officer. Through his former consulting business, Harkador Partners, board positions, and mentorship, Harkavy has helped grow and fund more than 20 companies.
Charles Trocano: Corporate Controller
Charles has worked in the financial divisions of both international and U.S. data acquisition companies since 1997. He joined LiveData in 2001 and assumed responsibility for both finance and administration. Charles holds an AB from Harvard College, and an MA from Tufts University.

Edward Finn, CPA, CFA: Chief Financial Officer
Ed brings 20 years of experience to the Chief Financial Officer role, where he operates in a consulting capacity, leading the Company's financial strategy, planning, and operations. In addition to serving LiveData, Ed services clients in the high tech and life sciences industries, in Boston and New York. Previously, he held CFO positions in the Boston startup space, most notably with Crimson Hexagon, Gazelle, and GetConnected. Prior to his roles as an operator, Ed was an investment banker with Stonebridge Associates in Boston where he helped clients in both a fundraising and M&A advisory capacity. Ed began his career with Ernst & Young in New York, and he received a double major (finance and accounting) from Georgetown University. He is a CPA as well as a CFA charterholder. In his free time, Ed can be found in Boston's North End with his wife and dog when not traveling and/or golfing.

Christine Lee Halbig, Director of Healthcare Product Management
Christine adds expertise in clinical management, including The Joint Commission (TJC) projects, clinical redesign, and patient safety initiatives, to the LiveData team along with experience collaborating with surgeons, primary care clinicians, health policy, and medical researchers to define and deliver communication and performance improvement applications. She joined LiveData from Boston University's Health Policy Institute where she supported two Robert Wood Johnson Foundation Human Capital Programs, designing and maintaining a complex relational database, and developing and growing the communications strategy for both programs. Christine also served as project manager at the Boston Medical Center Medical Information Sciences Unit, and as a Research and Program Evaluation Intern at the Latin American Health Institute in Boston. She led a committee at the Fair Haven Community Health Center in New Haven, Conn., focused on patient access, performance improvement and TJC compliance. Christine holds a Master's in Public Health and a BS from Boston University.
Dorothy A. Van Ryzin, Director of Healthcare Engineering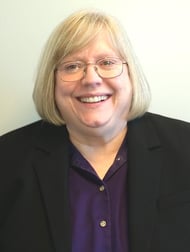 Dorothy brings over 20 years of proven success leading development of analytical and workflow solutions in the healthcare and financial s
ervices industries. She has extensive experience developing both enterprise on-premises and cloud-based solutions. She has particular
expertise in data architecture. Before joining LiveData, Dorothy was Technical Development Manager at McKesson Corporation's Change
Healthcare subsidiary for products including cloud-based healthcare data platforms, risk assessment and predictive analytics, and compliance
and quality reporting. Prior to that she has worked at Microsoft and TriZetto corporations. Dorothy has a Bachelor of Science in Computer Science from Boston University.