LiveData SmartGrid Manager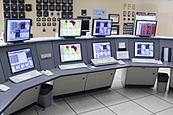 LiveData SmartGrid Manager™ delivers the final layer of intelligence to next-generation utility networks. It enables your enterprise to optimize asset performance, maximize efficiency, and transact effectively and safely in real-time markets.
SmartGrid Manager provides a real-time global view of all electric power grid assets, web-driven tools for configuring dashboard views, and secure handling of bidirectional data flow.
With SmartGrid Manager, your enterprise is well equipped to:
Quickly and easily recognize failure of any type

Generate alerts as soon as failure is detected

Geographically report power and telemetry loss

Manage power flow and energy on the supply side

Generate routine reports on overall performance and specific events

Integrate and monitor overall health of and communications between EMS, SCADA, OMS, GMS and load balancing sysems

Present operational data to senior managers anywhere through an executive web portal

Perform real-time calculations and transformations on data being passed from source to sinks

Monitor multiple LANS in a single facility

Generate alerts when a potential cyber attack is detected

Reduce the complexity of adding and removing points
Underlying SmartGrid Manager is LiveData RTI, packaged with all necessary interfaces and protocols.