LiveData Perioperative Assessment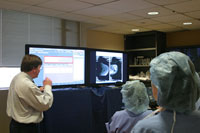 LiveData offers an in-depth evaluation of OR systems and processes, applying our real-time integration, human factors, and perioperative workflow expertise. The Assessment precedes all PeriOp Manager and OR-Dashboard installations. It is also recommended for hospitals that are considering implementing LiveData solutions, are planning construction of new ORs, or would simply like to better understand how state-of-the-art technology can impact workflow.
The Assessment Process
Typically carried out within a 2-day framework, the Perioperative Assessment examines existing OR information systems, clinical processes, and OR workflow in relation to hospital objectives for improving patient care, compliance with safety mandates, and increasing productivity. The Assessment includes (but is not limited to):
Identifying specific safety, compliance, and efficiency goals
Analyzing OR workflow to determine what information is needed when during the surgical case
Identifying information from across the hospital that would be useful for the OR, including information that has previously been unknown or inaccessible
Determining the most efficient, most effective manner of transferring information from one department to another
Final Report
The Assessment concludes with a comprehensive report.