LiveData and the NYP Wall of Knowledge
Orthopaedic surgeon William Macaulay shows how the Wall of Knowledge impacts the work of OR teams and medical education. Dr. Macaulay is a professor of clinical orthopaedic surgery, advisory dean for the College of Physicians & Surgeons, and director of the Center for Hip and Knee Replacement at NewYork-Presbyterian Hospital/Columbia. The Wall of Knowledge was initially implemented in 2 pilot ORs at Columbia University Medical Center and 2 at Weill Cornell Medical Center, and later expanded to 4 ORs in Weill Cornell's Advanced Therapeutic Services Center.
For hospitals interested in their own Wall of Knowledge, LiveData now offers a complete package via KARL STORZ. Please contact LiveData for more information.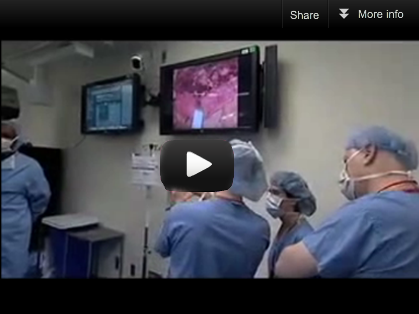 About the Wall of Knowledge
A Wall of Knowledge delivers real-time case information—all relevant data and images—to the OR on rich displays. Components include:
LiveData OR-Dashboard: For aggregating and displaying real-time case information, automatically synchronized with OR workflow.

Audio visual system: For displaying surgical and endoscopic video, pathology specimen, PACS, and other images as well as providing telecommunication links between the OR and other areas.

One-touch control: For managing monitors, lighting, cameras, music, temperature, and other environmental settings.